This was a donation card I designed pro bono for the family of Dr. Samuel J. Hassenbusch III. Working with the Dr. Marnie Rose Foundation, the Hassenbusch family needed a donation card to hand out to friends and colleagues for the purpose of glioblastoma research funding. As Dr. Hassenbusch suffered from this disease himself, he and his family felt that a donation card specific to his plight could be effective in garnering donations.
Front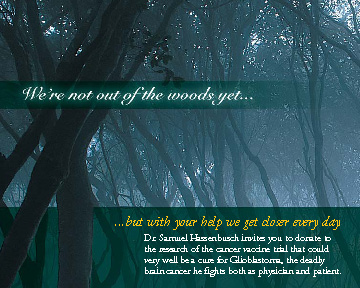 Back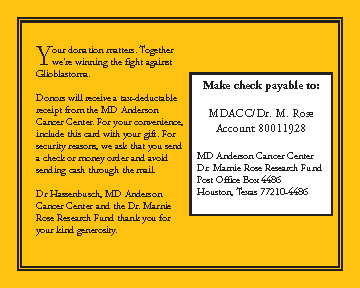 Though Dr. Hassenbusch eventually succumbed to this terrible disease, the research funded by organizations like the Dr. Marnie Rose Foundation helped to prolong his life for nearly three years.
You can learn more about glioblastoma here. To learn more about the Marnie Rose Foundation or how you can help fight glioblastoma, visit this link.